我们的日常科研中,作为生物功能的直接行使者,蛋白与蛋白之间的互作可以称得上是必不可少的实验。
实验方法中,普通一点我们可以通过免疫共沉淀(Co-Immunoprecipitation)、质谱来研究,高端一点我们可以通过荧光能量共振转移 (FRET)或Duolink PLA技术来研究两个蛋白质之间的相互作用。但试验方法只能每次都做一组蛋白,面对一大波蛋白,我怎么知道谁和谁之间有事儿呢?查文献?NO!
两个蛋白质之间能够相互作用,是有一定的空间、结构基础的,利用公共数据库,我们可以查询与预测蛋白质之间的互作从而大大缩小可能范围,从而提高科研效率!
今天就和大家介绍下一些常用的蛋白质相互作用数据库,希望对大家科研设计有帮助。
Licata L, Briganti L, Peluso D, et al. MINT, the molecular interaction database: 2012 update[J]. Nucleic acids research, 2011, 40(D1): D857-D861.

网址:http://mint.bio.uniroma2.it/mint/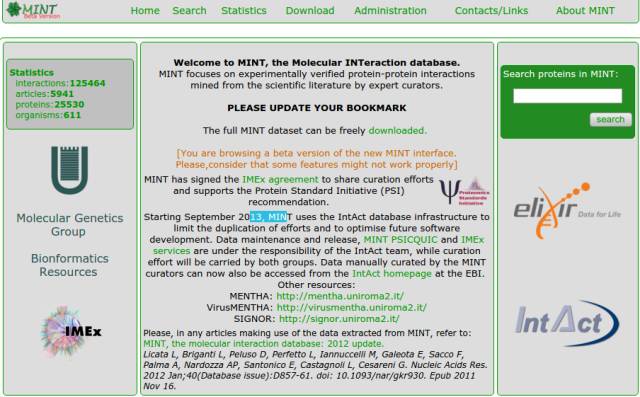 Szklarczyk D, Morris J H, Cook H, et al. The STRING database in 2017: quality-controlled proteinprotein association networks, made broadly accessible[J]. Nucleic acids research, 2017, 45(D1): D362-D368.
网址:http://string-db.org/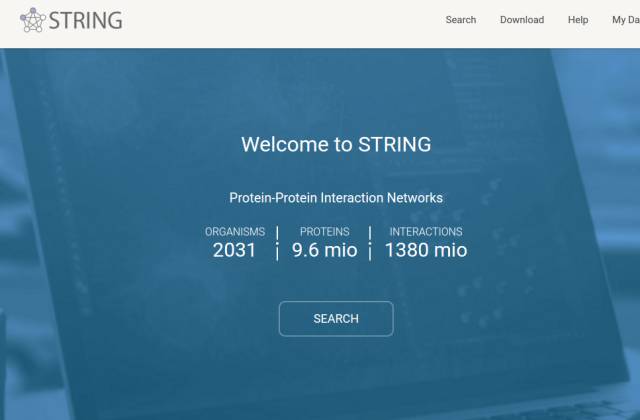 Prasad, T. S. K. et al. (2009) Human Protein Reference Database - 2009 Update. Nucleic Acids Research. 37, D767-72.
网址:http://www.hprd.org/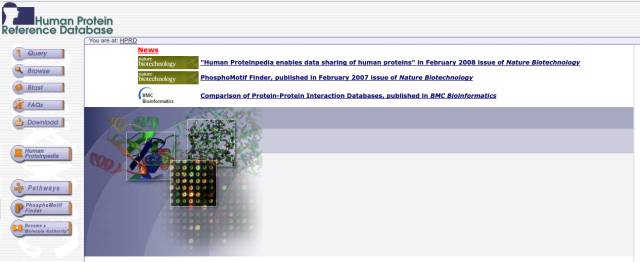 Chatraryamontri A, Oughtred R, Boucher L, et al. The BioGRID interaction database: 2017 update[J]. Nucleic acids research, 2017, 45(D1): D369-D379.
网址:http://thebiogrid.org/

Database of Interacting Proteins in Oryza SativaSapkota A, Liu X, Zhao X M, et al. DIPOS: database of interacting proteins in Oryza sativa[J]. Molecular BioSystems, 2011, 7(9): 2615-2621.
网址:http://comp-sysbio.org/dipos/?id=5


Salwinski L, Miller CS, Smith AJ, Pettit FK, Bowie JU, Eisenberg D. (2004) The Database of Interacting Proteins: 2004 update. NAR 32:D449-51. 
网址:http://dip.mbi.ucla.edu/dip/

Zhu G, Wu A, Xu X J, et al. PPIM: A ProteinProtein Interaction Database for Maize[J]. Plant Physiology, 2016, 170(2):618.

网址:http://comp-sysbio.org/ppim

8. The Arabidopsis Interactions Viewer
The Arabidopsis Interactions ViewerThe Arabidopsis Interactions Viewer queries a database of 70944 predicted and 4300 confirmed Arabidopsis interacting proteins. The predicted interactions (interologs) were generated by Drs. Matt Geisler and Jane Geisler-Lee (Geisler-Lee et al., 2007) at the Southern Illinois University. Their current version is Interactome 2.0. The confirmed Arabidopsis interacting proteins come from BIND, the Biomolecular Interaction Network Database, highdensity Arabidopsis protein microarrays (Popescu et al, 2007; Popescu et al., 2009) and other literature sources. The interactions in BIND were identified using several different methods, such as yeast two hybrid screens, but also via traditional biochemical methods. Use the links to BIND/PubMed records that are in the output of this viewer to view further information. All subcellular localisation data is from SUBA, the Arabidopsis Subcellular Database. These localizations do not include predicted localizations.
http://molbio.mgh.harvard.edu/sheenweb/protein_interactions.html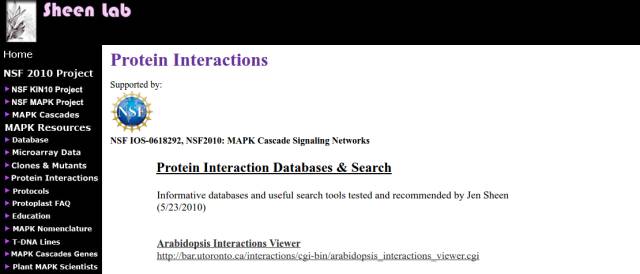 McDowall, MD, Scott, MS and Barton, GJ PIPs: Human protein-protein interactions prediction database Nucleic Acids Research 37:D651-D656 2009.
网址:http://www.compbio.dundee.ac.uk/www-pips/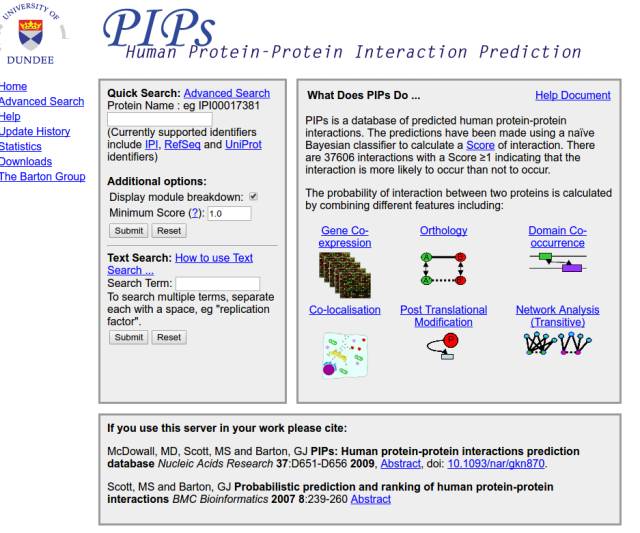 如果以上你还是觉得不够用,那可以看这里:
https://omictools.com/ppis-category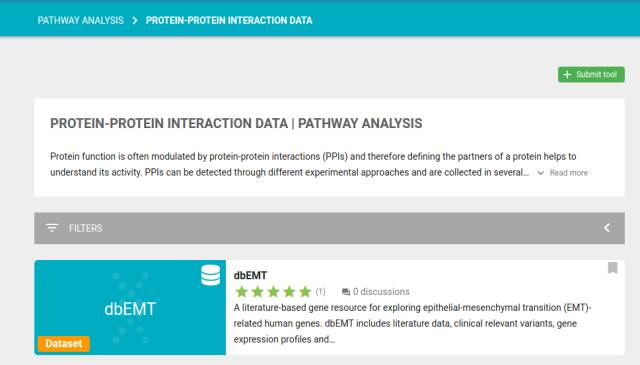 文章来源:弗雷赛斯, 如涉及版权问题,请及时与我们联系,我们将尽快处理!